Dragon II > Guides

Guides
Bag System
Bag System:
Unlocked Level:Lv.1 unlocked
Click the bag button at the bottom of interface to enter the bag interface: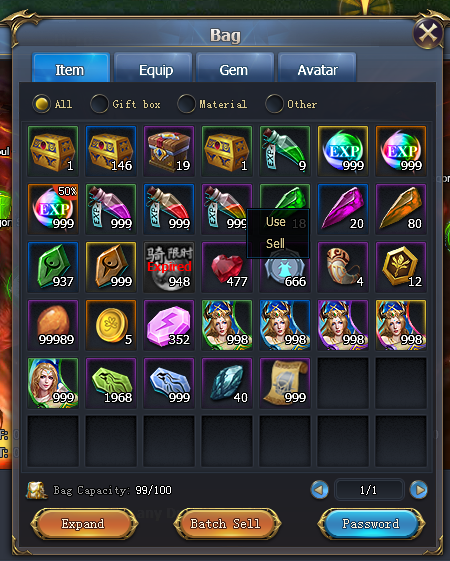 Bag-Item
Bag Operation:click TAB to switch different types of items.
Click an item to pop out a related operation menu:
【Use】:double or single click to use this item.
When clicking, if the number of item >1 and can batch to use, the usage box will be popped out automatically and adjust quantity by manual input or buttons. After click ok, it will batch to use automatically. If obtain items after using, it will stop using automatically when the bag is full.
【Sell】:Click sale can sell the item to the system to gain some silver or other returned items. If item quantity >1 and available to sell, the sale box will be popped out when click the sell, and available to adjust quantity by manual input or buttons to sell more similar items at one time.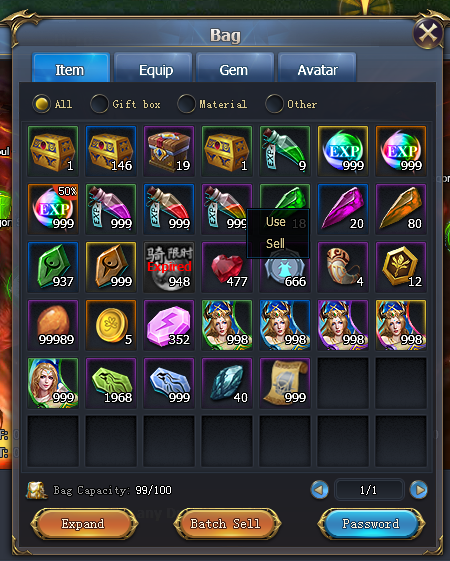 Bag-Function
【Expand】:Click expand, and can cost specified items to expand the bag, and can expand 5 bags each time. Increasing VIP level also can expand the bag automatically.
【Batch Sell】:Click batch sell, and the mouse will change into a batch sell sign. Clicking the available sale items in the bag can batch sell conveniently.
【Password】:Players also can click password to protect all of the items in the bag not to be sold, which can make players happy to game.